Regardless of what business you're in, chances are there is some sort of conference, convention, summit, or trade show that brings in the biggest brands and the brightest minds within your industry.
Yep — that's an image from the annual World Toilet Summit & Expo.
Now, the idea of a commode-centric summit would make even the most imperturbable smirk, or at least mentally double take (I literally Googled, "world's weirdest conferences"). However, other than unveiling the "gold-plated throne" – a luxurious crapper valued at more than $200,000 – and other fancy loos, they actually do some pretty phenomenal work.
All potty puns aside, the primary objective of the summit is to bring in industry leaders and conceptualize new methods and strategies for improving sanitation in areas of the world where a lack of proper facilities is a dangerous and often deadly health issue. The World Toilet Summit is an excellent example of some of the benefits of participating in these sorts of events—advancing not only one brand but an entire industry.
Major benefits of conferences, summits, conventions, and trade shows:
1. Stay up-to-date with the latest strategies, practices, tools, and trends within your industry.
2. Meet new people, forge new partnerships, and grow your business.
3. Stick out within the industry—show other's you're a leader and grow your business' identity
4. Refuel your brand by getting inspired by the latest insights.
Depending on what industry you're in, you'll probably attend an event at least once a year. If you envision and aspire for your business to be an industry leader, rather than just an industry player, it's a good idea to take on bigger roles within these events such as conference sponsorship. Now, everyone knows that sponsorships can be a prohibitively expensive endeavor and to top it off, you really have to be one of the best in order to see a return on investment.
So, how can you keep expenses low and still stick out as one of the best? Well, you've come to right people for answers… not only do we have a successful track-record sponsoring major summits but also, who better to offer money-saving tips than a team of nerdy, Jewish digital marketers? I mean, really?
So without further ado, here are some of our favorite tried-and-true sponsorship hacks—ways to cut expensive corners, while still have a successful, ROI positive, event.
Enjoy, get inspired, and share!
1. First things first—do the groundwork
Before we start conjuring up ways to save money, we need to lay the groundwork.
Evaluate the added perks
If there's one thing marketers love – it's perquisites associated with advertising about their company!
So before anything, let's consider the added perks of sponsorship. This generally includes: a display booth to show off your business, personalized giveaways for conference bags, and an ad in a conference magazine or event brochure.
These are the areas and materials in which you really need to stick out, be different, and think outside of the box. I'll let you in on a little secret… the key to success here is not in the amount of money you spend on these items but the creativity behind them. Don't stress, this article is full of useful examples to help get you inspired…
Set specific goals
Now before you start rushing to decide on an idea for one of these items, it's best to be cognizant of what you actually want to achieve from sponsoring an event.
Of course the most obvious objective at an event that you may choose to sponsor is acquiring qualified leads that can be converted into sales. Be sure to define these goals in terms of the number of clients you wish to gain, product demonstrations you seek to carry out, etcetera, etcetera.
For example, since we're a boutique digital marketing agency, we're not interested in bringing in as many clients as possible while offering impersonal marketing services à la carte. Rather we prefer to work intimately with a handful of big brands and provide comprehensive marketing services. Therefore, our initial goal going into a summit sponsorship, is usually to acquire at least one or two new, mega clients, which for us would still make the event ROI positive.
Hence, depending on what services your company provides and what will bring you ROI, goals may vary significantly. Bottom-line, define them before you start any other conference planning.
Think big picture
Like I said, you need to stick out, however, the way you do so still needs to be congruent with your company's identity. Since we're online mathematical media-buyers, we usually want to stick out in a nerdy, cleaver, unique, and attention-grabbing kind of way because that's precisely who we are and essentially what our company does.
Keep this question in mind as you proceed:
Who are we, what do we do, and how can we use that uniqueness to stand out during a mega-industry event?
Now, the ideas won't just start pouring out after you ask yourself the latter… so, like any decent creative team member, it's time to do some research with that question in mind. Explore what other people in your industry are doing in terms of exhibit design, promotional products, and etcetera.
After doing some initial research, present it to your creative team – if you have one – and have a brainstorming session.
Event invites
It is recommended that you make advance appointments with key customers and prospects beforehand. You don't need to waste money sending personalized snail mail invites but you also don't want it to be just another boring email.
Come up with a short and sweet creative with your in-house team and send it via email. It's good to send it well in advance so that clients and prospects that are interested in meeting up can make arrangements. Here's an invite we sent to clients and prospects several months before the last summit we sponsored:
[caption id="attachment_1472" align="aligncenter" width="710"]
This event already happened so unless you're Dr. Emmett Brown, too bad for you.[/caption]
You'll also want to send reminder invites as the conference approaches. The great thing about creating digital invites in-house, is that there are no added costs and they can also be disseminated on all your social media accounts—another cheap way to draw more visitors to your booth.
Here is an invite that we not only sent out to our clients and prospects but also posted on our Facebook, Twitter, Linkedin, and Google+ accounts:
[caption id="attachment_674" align="aligncenter" width="800"]
What are the odds that the 5 best looking marketers are in the same room?[/caption]
2. Tackle the hard stuff first—your trade show booth or exhibit space
After doing the groundwork it's time to consider your booth or display space. This is traditionally one of the most expensive components to sponsorship. It's good to come up with an initial and general booth concept. Remember, this will be refined throughout the creative process so don't stress if it feels incomplete at this stage.
For example, since we're a boutique digital marketing agency, we wanted to sway away from the corporate look. So we played with ideas that would make our booth, much like our PPC ads, stick out—remaining true to our identity.
Booth space usually comes with basic booth amenities (skirted table, chairs, drapes, head sign with company name, waste paper basket, power source, and internet). However, you'll still need to invest in additional printed posters/banners and possibly additional furnishings.
Event organizers generally work with an outside company, who they promote as far as renting or purchasing additional booth furnishings, printed materials, and/or storage. These companies usually cater to convenience rather than affordability. So, if you're looking to cut expensive corners, utilizing these companies is not always the best route. Therefore, as you proceed, be sure to research outside options.
Defining piece
There needs to be a main attention-grabber or defining piece to your booth.
We always use a banner as the defining piece. The idea is to fill the entire back wall with an attention-grabbing creative—essentially the width and height limit of our booth as determined by event organizers. So as we prepared for the last summit we sponsored, we started by brainstorming simple, eye-catching creatives, along with a straightforward and attention grabbing tagline about our services. We came up with this (the silhouette provides you with an idea of how big we're talking):
The company recommended by the event organizers for printing materials did not print at the size we wanted and the printing services they did offer, were up to four times the price we found elsewhere. There are always cheaper solutions so don't let that stop you from printing an attention-grabbing banner!
Printing banners on different materials can also significantly lower the overall price, which is why we decided to print our banner on cloth. The benefit, beyond the price, was that it didn't have a glare from lighting that you often see on glossy, matte or vinyl banners.
Now, we knew we wanted additional rollup posters that had more detailed information about the services we provide but we didn't have that content ready at this stage of planning. Regardless, we still determined how many, sizing, and explored the most affordable printing options.
Customize your display table
Our booth came with a standard table with a black table cloth but we wanted to spice it up a bit. Again, we researched prices of printing on table cloths and found several affordable options online. After brainstorming design and copy we came up with this:
Flooring
Hotels and convention centers are notorious for having uniquely tacky and well… straight out, ugly carpeting that can naturally take away from the prominence of your booth.
In the last summit we sponsored, they had this brownish, yellowish, oddly designed carpeting that would have significantly taken away from the overall concept of our booth. We didn't want to buy/rent a simple rug or solid color carpet so we went for the unique:
[caption id="attachment_677" align="aligncenter" width="300"]
Always fun to have some grass[/caption]
That's right—artificial grass! Much cheaper than purchasing a rug or carpet and naturally eye-catching.
Additional Furniture
Depending on the size of your booth space, you may want to have more furniture or display shelving. At the last summit we attended, the company recommended by summit organizers charged exorbitant fees just to RENT additional furniture. We found it to be exceptionally cheaper to purchase additional furnishings online.
For example, we wanted to offer booth patrons that showed serious interest, a place to sit down and talk to one of our staff members in more depth. We decided to purchase a small pub table and stools for this purpose and we did so for a fraction of the price of renting. Keep in mind, these types of additions are also quite useful in preventing patrons from blocking the front of your booth.
Overall concept
After coming up with an overall concept for our booth we produced a mock up. The blue rollup posters would of course have content, again it's not imperative you have that worked out at this stage in the planning process. However, it is a good idea to make a mock up so that you have a sense of how each piece looks all together.
3. Creating Unique and Inexpensive Conference Bag Inserts
Sponsors usually have the opportunity to put branded giveaways in the attendee bags. Some of the most common corporate swag you've probably seen include promotional pens, notepads, brochures, etcetera. The truth of the matter is, most people do not read literature inserts and they don't necessarily look at the logos on the free pens and notepads. Deciding on unique conference giveaways or swag, will help you stick out and draw more attention to your logo.
For example, we thought the best way to stick out at a digital marketing summit was to be a bit risqué and we initially came up with this idea for an insert:
[caption id="attachment_1437" align="aligncenter" width="710"]
We're not called Quality Score just because of our large scale campaigns.[/caption]
We had our logo printed directly onto the condom and the condom was adhered to card stock—certainly attention-grabbing. Now, if you choose to follow in that direction, be sure you get the approval of event organizers before you order thousands of inserts. Unfortunately, the organizers of the last event we went to did not approve our inserts so we came up with a cheap alternative.
[caption id="attachment_1438" align="aligncenter" width="710"]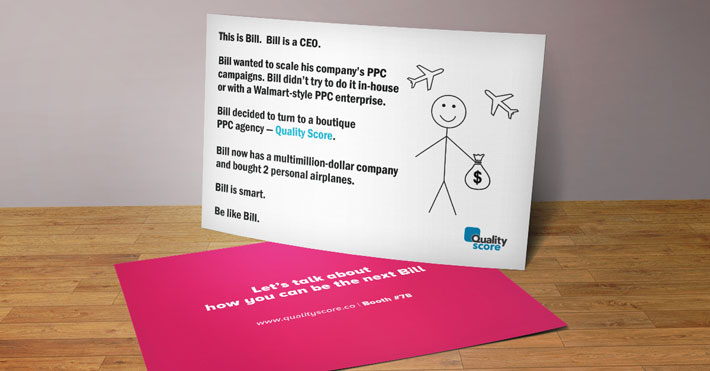 Kill Bill.[/caption]
Notice how another unique way to stick out, beyond being risqué, is to draw on popular culture. Right before the conference, the "Be like Bill" meme had gained serious popularity on Facebook. We decided to play with this concept and it turned out to be a success. People approached our booth, complementing us on our postcard inserts. We made sure to order more than just the amount needed for inserts so that we could keep some on your booth table to ensure that attendees made the connection between the insert and our company.
Again, this was something that was designed in-house and we researched printing companies that offered deals on mass postcard printing.
4. Producing a Creative and Congruent Company Ad For The Conference Brochure
As a sponsor, you are usually allotted a small space in the event brochure or magazine for an advertisement about your services. Try to aim for some congruency between materials, the more attendees see your logo and theme, the more of a connection they will draw when they see your booth—and the more likely they'll feel inclined to stop and chat.
The original ad we produced in-house followed the same theme as our condom insert idea.
However, when the condoms were disapproved, we decided to work off our invite idea.
5. Producing Cheap Marketing Materials
Now, you'll want to have some marketing items laid out on your booth table to give to booth patrons.
As I mentioned before, it's always good to order more conference bad inserts or swag than needed and have some laid out on your booth table so people make the connection that that great idea came from you.
You'll also want to have business cards on the table so that people can grab them for themselves or you can easily pick one up and hand it to a patron.
We also highly recommended to produce some sort of literature that explains what you do and how you do it. Something patrons can take with them and read later. We decided to make a small magazine about our company and the services we provide.
We created the content and design in-house and researched the cheapest printing options. Don't waste money printing a copious amount—most patrons won't take the literature and it's never a good idea to just blindly hand them out to passerbyers. Why? There's nothing worse than attendees seeing trashcans filled with your brochures. So, keep a stack on your display table and offer your literature to interested patrons or let people grab them for themselves but don't just pass them out to everyone that walks by.
Oh, and have some sort of promotional gift. Again, there's really no need to spend too much money on this… beer, candy, snacks are just as effective as giving away fancy mugs, t-shirts, etcetera.
6. Refining and Finalizing Your Booth
Now that you have a solid idea of the theme of your booth and marketing materials, it's time to finalize your booth concept. If you have any additional rollup posters, now is the time to finalize the content and design for those pieces.
Plug everything into your final booth mock up so you can visualize how everything looks together.
Storing your materials
Before you start ordering materials, do some research on the prices of storing your materials at a facility near the convention center. Again, summit hosts will general recommend that you store your materials with a company they work with but they won't require it. Do some research—explore whether it's cheaper to use an outside storage facility. See if you can arrange for them to deliver your belongings on setup day. Once you work out the details of where you will be storing your materials until the conference begins, then it's time to order.
7. What to do The Day of the Conference and Beyond...
[caption id="attachment_1443" align="aligncenter" width="710"]
Oh there's that hot marketer again... and Shira too.[/caption]
Staying organized
After setting up your booth it's good to create a Google spreadsheet that every team member has access to. Use it to collect the contact information of prospective clients. This is free and it's a useful way to stay organized.
Making noise on social media
It's a good idea to have someone stay busy posting on your social media accounts. Use the event #hashtag so that attendees are constantly hearing from you. It's also not a bad idea to sponsor an ad on Facebook and target people in the vicinity.
At the last summit we sponsored, we decided to make a small video with the same theme as our inserts, which we sponsored on Facebook. As people in the conference intermediately browsed their Facebook accounts, there we were again, not just sticking out, but also proving we knew how to do what we do best—digital marketing. Again, this was produced in-house and the only thing we had to pay for was sponsoring the ad on Facebook for three days.
[caption id="attachment_687" align="aligncenter" width="434"]
Kill Bill 2[/caption]
Resale
As previously mentioned, it's generally cheaper to simply buy additional booth furnishings than rent them through the company event organizers work with. Now, if you're really interested in saving money… right after you purchase additional furnishings, go ahead and post these items on Craig's List or other sites for re-sale. Explain that they were purchased specifically for a conference booth, only used during the duration of the conference, and set the pickup date for the day you are required to breakdown your booth. This way you get most of your money back AND you don't have to worry about transporting the furnishings offsite.
You'll be surprised what people will buy, so there's no harm in posting everything:
Follow up
Directly following the conference, we recommend sending an initial email to all the contacts you saved on your Google spreadsheet. At this point, you can simply state that it was a pleasure speaking at the event, that you will be traveling back to your hometown but that you will be in contact with them shortly. Remind them to visit your website to learn more about your company. It's also a good idea to spice up the email by including a creative:
[caption id="attachment_1444" align="aligncenter" width="710"]
Fresh out of condoms![/caption]
As you are now able to imagine, there are loads of ways to cut expensive corners while sponsoring industry events and yet still stick out in a unique way. At the last summit we sponsored, we surpassed our initial goals and we did so despite spending significantly less money than most of our competitors. Remember, the key to success here is not in the amount of money you spend but the creativity you put in.
Feel free to share your creatively inexpensive ideas and success stories below!
[caption id="attachment_1445" align="aligncenter" width="710"]
Here's our PPC Genius... and 4 random guys.[/caption]